---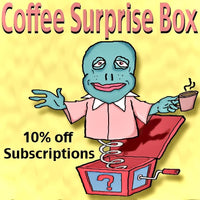 Don't know what you want? Willing to take a risk?!
Check out the Coffee Surprise Box! You could get something with chocolate flavors or something with fruity flavors, no matter what you're going to love it.
Each box comes with two 12 oz bags of coffee, whole bean or ground to your preference.
Set up a weekly or monthly subscriptions and receive 10% off your coffee each month.
If you love coffee and or surprises this ones for you. who knows your order might even come with a little Easter egg.