---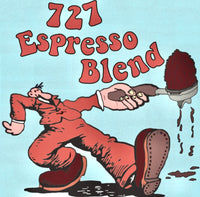 A traditional take on the American Espresso recipe. Bright and rich with a strong finish this three-bean blend is well rounded for everyone. Whether you're brewing it on an old school stovetop brewer or a state of the art machine you will be greeted with a delicious flavor profile. 
The name is inspired by the address the Cozz Coffee. The building we are in has always played a significant role in my life, a building that has worn many faces but has always been referred to as 727.
As a child, I would come here to visit my uncle's architecture firm. In my teenage years, the space became another uncle's law firm and I would often go there after school to visit my uncle and grandfather.
As an adult, my father began using the space as a doctor's office. Throughout every iteration family has always been a constant.
727 as a number has always represented family and tradition. 

Blend: Three bean post roast
Flavor Notes: Chocolate, roasted hazelnut, lemon