---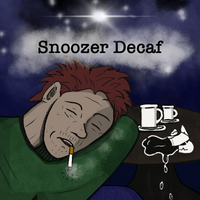 Region- Sul De Minas
Elevation- 17,00-2,000
Process- Swiss Water Process
Artwork - Hovi 
Looking for something tasty that isn't going transcend you into another dimension? Are you sensitive to caffeine? Maybe you're just looking to drink coffee 24/7 but don't want to experience caffeine overload. Here is the Decaf Brazil Sul De Minas, a great coffee for those who don't want the perk with great natural sweetness and none of that chemical decaf flavor you might be used to. 
This coffee is decaffeinated through the swiss water process. Simply put in their tagline the Swiss water Process produces Amazing Coffee without caffeine. It is also one of the few chemical-free processes for decaffeination. 
https://www.swisswater.com/our-process/. Swiss Water process uses the elements of water, temperature and time to create some of the most intriguing decaf coffee. First, we start with small batches of amazing coffee and green coffee extract. Then we add local water and a dash of loving attention by monitoring time and temperature until the coffee is 99.9% caffeine-free. See how it all happens in four sort-of-simple steps.